Technology Lifecycle Services
Ensure customer satisfaction and confidence when implementing new technologies.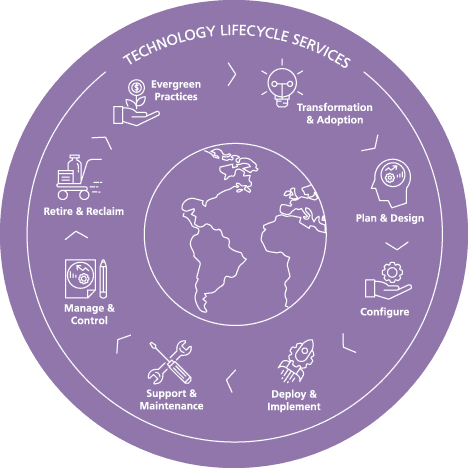 Transformation & Adoption
The process of the adoption of new technology or product rollouts in a market includes how the technology will be supported with training and information and support for your customers, employees, or end-users. Transformation and adoption both begin and end the lifecycle for a device or technology.
Services:
Training: Curriculum and Content Development

Technician Training

Training: End-user Training Programs
Configure
La configuration physique d'appareils avant le déploiement. 
 Services : 
Préparation en amont

Formation : Formation des utilisateurs finaux

Configuration et expédition d'équipement sur site
Plan & Design
The planning of service programs that enable organizations to transform and adopt new technology, including training.
Services:
Technology Consulting

Site Inspection

Lifecycle Assessment

Equipment Financing
Support & Maintenance
Ongoing service-level support for equipment, either by call center support or the scheduling of service calls or regular maintenance.
Services:
Break/Fix Onsite Repair Services (Field Service)

White glove service

Preventative Maintenance

Resident Technicians

Managed Services

Remote Help Desk Services
Deploy & Implement
The operational deployment of devices in the field, including logistics, scheduling, installation and training.
Services:
Installation

Implementation

Migration Services

Training: End-User Training Programs
Retire & Reclaim
The operational function of performing updates or retrofits of devices in the field or retiring devices and replacing them. Services may also include uninstalls, refitting, or recycling of materials.
Services:
Break/Fix Onsite Services (Field Service)

Depot Repair Service

De-Installation Service
Manage & Control
The service-level management of devices that are deployed in the field and controlled planning of any updates. Includes customer service functions and the regular and ongoing reporting and 'voice of customer' metrics.
Services:
Call Center Services

Call Avoidance Services

Remote Help Desk Services

Periodic Maintenance

Analytics and Reporting
Evergreen Practices
Evergreen practices extend the usable life of a device in the field, thus ensuring end-to-end quality and protection of the manufacturer brand. Incorporate evergreen practices into the entire services lifecycle, which keeps replacement costs low, and customer satisfaction high until the process begins anew.
Services:
Depot Repair Service

De-Installation Service

Periodic Maintenance