Medical Technology
Improve your customer experience and ensure your medical technology services are running smoothly.
Your customers rely on your medical technology equipment to provide extraordinary patient-centered care. If you are part of a company that develops, manufactures, or distributes medical technologies, devices, equipment, diagnostic tests, and health information systems, your technology is transforming lives through earlier disease detection, less-invasive procedures, and more effective treatments.
We focus on medical equipment service for non-invasive and non-diagnostic computer-aided types of MedTech devices as well as automated equipment for pharmacy, lab applications, sterilization, disinfection, telehealth, and dispensing systems.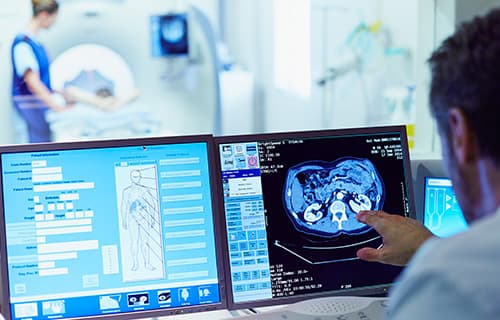 Types of medical technology equipment we service
Automated sterilization and disinfection systems

Mobile technology carts

Specialty label printers

Automated pharmacy systems

Desktop and benchtop robots

Lab automation

AR/VR based training simulation

Telehealth and vending combos

Autonomous robots deployed in hospital settings
Ricoh Service Advantage offers OEMs of medical technology comprehensive lifecycle service to support, maintain, and manage their equipment to support consistent machine uptime and availability for a better customer and patient experience.
Could medical technology equipment services help you scale operations?